Page Contents
What is 86ing?
How do I 86 items?
Item Availability
Mixed Availability
Frequently Asked Questions
What's is 86ing ?
To "86 an item" means to edit the availability of a menu item so that eaters/customers can no longer order it. If you have Self-Serve Menu Management enabled, you can now 86 items on your own.
How do I 86 items?
Please review the video and follow the steps below to 86 an item on your menu:
Go to "Items" tab
Select one, or multiple items you'd like to 86
You'll find 3 options to choose from:

Available
Unavailable today (item will be out-of-stock until the next morning)
Unavailable indefinitely ( Item will remain deactivated until it is marked as Available.)


Choose one option and click on "Publish availability"
The availability status of the item will be updated and the "86" will automatically be applied on all OFOs.
Item Availability
On the Items tab, you'll be able to see the status of each item. If you have more than one location, it will show the availability of the item for each location. For example, in the image below: The item "Burger" is unavailable at 1 location out of 3.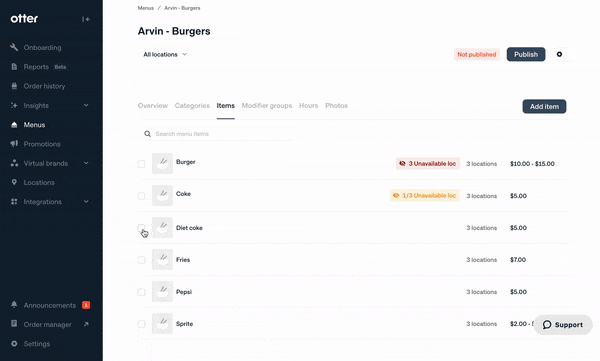 Mixed Availability
With mixed availability, you are free to 86 items in some locations, not all of them. How does it work:
Go to "Items" tab
Click on "Edit Item"
Click on "Mixed availability", a pop-up will appear:

You can select the location you'd like to update the availability for. You can select one or multiple locations:

Once selected, click on "Publish Availability"
Frequently Asked Questions
Can I bulk 86 items?

Yes, you can select multiple items to 86 at once.

Can I select the food delivery applications that I'd like to 86 on?

No, 86'ing will be automatically applied to all food delivery applications linked to the menu.

What do I do if 86'ing is not working?
Can I 86 items at multiple locations at once?

Yes, go to the Edit Item page, Change availability and select the locations.

If I 86' in BM will it be reflected On Otter tablet?

Yes, it'll be reflected in Order Manager and Business Manager.

Will 86'ing available for food delivery applications that do not support menu publish?

Yes, if the application supports 86ing.